Thread Rating:
What's your internet speed? http://testmy.net
My internet speed results are:
Download speed:3.400Mbps
Upload speed :2.32Mbps
I checked my internet connection speed at Scanmyspeed.com .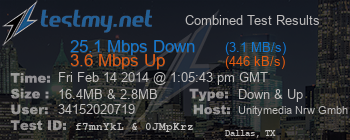 What, I have more than that.
Now that's better.
I like to code, duh.
Click here
to see my latest projects and unfinished website.
Users browsing this thread: 1 Guest(s)