03-02-2015, 04:30 AM
For a while, I've been trying to make some new game, continue an old project, but I've not been able to do that, either for lack of directions (I didn't know where to go with it) or simply for a lack of skills (it happens).
Since I really wanted to make something, I ended up taking
this game
, making it a text based game,  and slapping some pony references in it.
After completing it, I felt quite funky, and decided to port it to other systems, just for fun.
In the end, this game is supported by/was written for the following systems:
MS Windows

GNU/Linux

BSD

MS-DOS

Commodore 64

A note for OS X users: while I don't have any Apple products to make a native version, OS X is technically a BSD, so you can try that. If it doesn't work, the source code is included, so you can compile it yourself as a last resort.
The Commodore 64 version includes a .d64 file to be used with the VICE emulator, and a file called "SOURCE" which contains, you guessed it, the source code.
The TempleOS one might appear as an archive, but it's actually just a simple text file with extension .CPP.Z
Just use a text editor to open it.
For Windows users, use the "game.bat" file to launch the game. You can still launch it without the batch script,
if you really want. More informations inside the script.
As said above, I included the source code for each version, so you can read it if you want.
The instructions for the game(? not sure if I can call it so) are in the "howto.txt" file.
There is also a "license.txt" file, which was added mostly for completeness. I don't even know if it has any value.
But you know how it is, better safe than sorry...
Here's some screenshots. Since the game is pretty much the same everywhere, I'll show just some of them (mostly the uncommon ones):
[spoiler=MS Windows]
[/spoiler]
[spoiler=Plan 9]
[/spoiler]
[spoiler=TempleOS]
[/spoiler]
[spoiler=Commodore 64 (using VICE emulator)]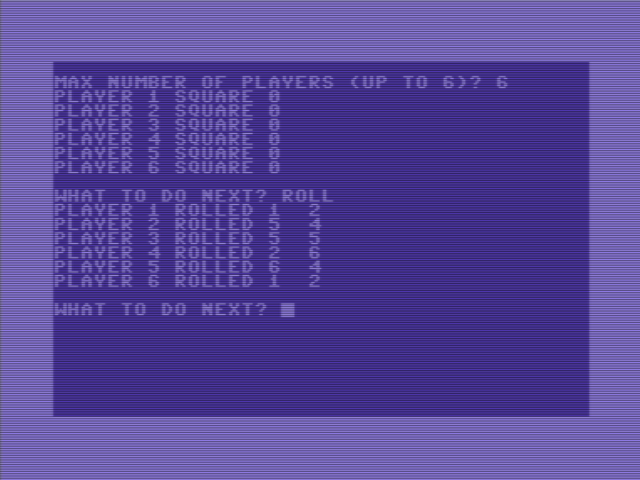 [/spoiler]
Now that I've described everything of the game, here's the download link.
It contains every version in its own folder. The "howto.txt" and "license.txt" are in common, so they are included only
once.
Have fun~